Beschreibung
Preisvorschlag oder Frage zu diesem Produkt? Email an: [email protected]
Agile | Stable | Accessible Foil
The new Nova is available now with 27/32 grams ultra light Porcher Canopy, creating the ultimate wing that flies from 5 knots onwards. By using only superior lightweight materials, the weight dropped with 25%, creating better float, an even more direct feel, better relaunch and smaller packing. This one of a kind foil was designed to unite all the benefits of LEIs, like accessibility, ease of use and stability, with all the advantages of foils: better upwind, downwind, low wind performance and float. When designing the Nova we had one goal in mind, to build a foil dedicated to speed up the learning curve of hydro foiling and that provides the best freeride feeling a foil can offer. It offers a stable and reliable riding experience in which you can focus on your board technique rather than on controlling your kite. If you want to spend more time above water but fear the foil, this is the kite for you.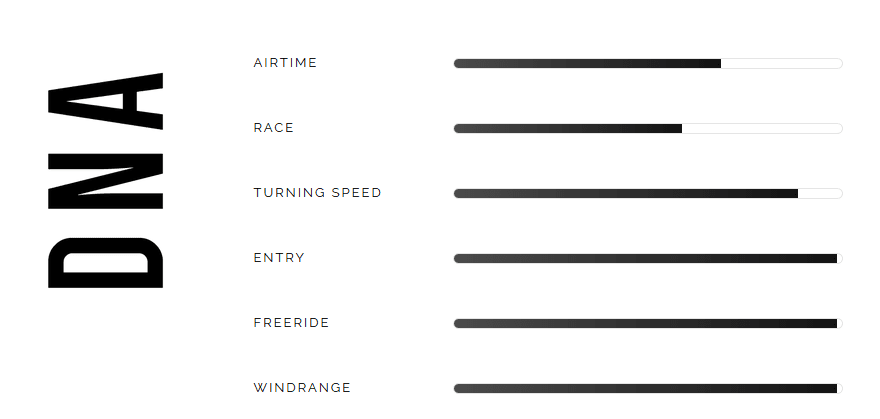 Tech Specs Nova UL
Ultra light Canopy
The new NOVA uses a combination of Ultra Light 27 grams and 32 grams canopy. This High Quality material create an even lighter foil that is durable yet ultra light.
The bottom deck of the NOVA is made of 27 grams Porcher canopy. It's feather light creating ultimate float and super small packing
32 grams top canopy
The top deck of the NOVA is made of 32 grams canopy. This makes the top deck more durable and crash resistant.
Shape Memory Structure [SMS]
D and H ribs allow for minimal bridle points and optimal cell bulging, creating a firm shape for easy-relaunch , stability and playful riding.
Bridge Technology
The inside of the kite is designed especially to maximize dimensional stability as well as reduced need for bridle points. The tension straps running along the bottom skin are a technical detail borrowed from the Twinskin/Arc design, and ensures proper bulging of the bottom skin while keeping the tension in check. The clever D and H Ribs allow for evenly spaced out bridle points and create a very rigid frame.
Tension Straps
Technical detail previously used in the Twinskin design and adapted to make the NOVA extraordinary. The tension straps ensure proper bulging to create a super solid wing that will behave as a tube kite..
Medium Aspect Ratio, high cell count
Highly stable, accessible performance
Medium Aspect Ratio, high cell count
The Nova's medium Aspect Ratio and high cell count make for a very slick wing. The high number of cells ensure the wings dimensional stability and prevents deforming of the designed shape. The Medium Aspect ratio makes the kite highly stable and allows for ease of use in a large wind range.
Cross-Vents
A smart profile design to reduce weight and create and easy inflow
Dynacore Bridle
To make the bridles easy to understand, each Dynacore bridle lines for the A, B, C and brake bridle rows come in a different colour. These different colours offer a clear overview of which line goes where, making it straightforward to set-up the kite or untangle if necessary. Dynacore is a sleeved Dyneema® line, which offers all the benefits of Dyneema® (minimal stretch, direct & responsive steering) but with additional protection.
One Line Relaunch
The Nova is water re-launchable. It's closed cell construction and coated UL fabrics keep water out and air in. It is recommended to practice this in shallow water before venturing deeper. Better still would be to keep it in the air at all times! Do not use in waves if you can't maintain the kite in the air.
Ronstan® Orbit pulleys
The Nova's speed system is constructed with 2×2 Ronstan® Orbit pulleys, these high quality pulleys weigh only 9 grams and allow for loads up to 250Kg. And since the line goes through the bearing, it will always stay connected even in the rare case the pulley gets damaged.
Single Designs
To accomplish maximum performance across the entire range of sizes we do not scale up or down. That is why each individual size has its very own design specifics, cell count and aspect ratio. This ensures optimal performance in each size as well as synergized handling, feel and balance across the range.
Reinforced bridle points
The bridle tabs are double stitched and reinforced with a Dacron patch for strength and durability, a Peter Lynn innovation which has proven its reliability time over time.
Size Range
Characteristics
Comfortable bar pressure, low sideways pull
To get up on a hydrofoil it is important that the kite doesn't generate too much sideways pull. Low sideways pull allows you to focus on holding your balance rather than dealing with the power of the kite.
Highly stable, rigid wing
The Nova's high cell count and internal construction makes for a firm wing that doesn't deform or has its tips fold in, this makes the kite highly reliable, and the bridle is tuned to offer maximum stability. The NOVA delivers much more power than an average LEI, making you able to use a small size in low wind.
Foil specific performance, ease of a LEI
Even though foil kites offer many advantages like low wind performance or upwind ability, many LEI riders consider foilkites to be difficult to use. This is why the Nova is special.
Fills fast, retains internal pressure.
The Nova's 4 inlets have been placed in such a way that air gets in easily and the internal structure allows this air to move freely inside the kite to speed up inflation. At the same time, the valves inside the wing prevent air from getting out.
Size Range
Zusätzliche Informationen